What is Cystic Acne?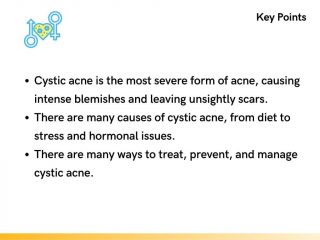 Cystic acne is a severe and often painful form of acne that can be both physically and emotionally challenging. 
Acne is a common skin condition that affects millions of people worldwide. While most people experience mild to moderate forms of acne at some point in their lives, cystic acne represents the most severe form of acne. Unlike the typical acne breakouts that we all have likely experienced, cystic acne is characterized by the development of large, deep, painful, and inflamed pimples.
These pimples, known as cysts or nodules, form beneath the skin's surface and are filled with pus. Unlike typical pimples or whiteheads, cystic acne lesions don't have a visible "head," making them more challenging to treat. Cystic acne also tends to leave behind numerous and unsightly scars that could require treatment to reduce or eliminate.
What Causes Cystic Acne?
The development of cystic acne is primarily linked to hormonal imbalances, particularly an increase in male hormones like testosterone. However, cystic acne can affect both men and women. Androgens such as testosterone stimulate the sebaceous glands to produce an excess of sebum (skin oil). When sebum mixes with dead skin cells, it can clog hair follicles, creating an environment conducive to acne. The trapped sebum and dead skin cells within the hair follicles can become a breeding ground for bacteria, mainly Propionibacterium acnes. This bacterium causes inflammation and leads to the formation of painful cysts.
However, fluctuations in hormone levels such as testosterone are not the only cause of cystic acne; here are some other factors that can play a role: 
Genetics:

A family history of acne can increase the likelihood of developing cystic acne, suggesting a genetic predisposition.

Diet:

While the direct link between diet and acne is still under investigation, some studies suggest that high-glycemic diets (those rich in sugars and refined carbohydrates) and dairy products may exacerbate acne in certain individuals.

Stress: High stress levels can trigger hormonal changes that contribute to the development of acne, including cystic acne.
Skin Care Products:

Some skin care products, particularly those containing comedogenic (pore-clogging) ingredients, can worsen cystic acne when applied to the affected areas.
Cystic Acne Locations
Cystic acne can appear almost anywhere on the skin; however, it is more likely to infect some areas more than others. The most common areas for cystic acne to occur are the chin, back, cheeks, nose, the jawline, and neck.
Cystic Acne on the Chin
The chin is a quite common site for cystic acne. The chin, like other areas on the face, is rich in sebaceous glands and is often more prone to hormonal fluctuations.
Cystic Acne on the Back
The upper back and shoulders are susceptible to cystic acne due to the abundance of sebaceous glands in this area. Known as "bacne" or "back acne," it can be especially painful and challenging to manage.
Cystic Acne on the Cheeks
Like the chin and other areas of the face, the cheeks are a very common site for cystic acne on the face. 
Cystic Acne on the Jawline
The jawline, like the chin and cheeks, is an area on the face that is also highly prone to cystic acne for the same reasons. 
Cystic Acne on the Nose
The pores on and around the nose tend to be larger than other areas of the face, so they can clog more easily. This can result in the red bumps and cysts typical of cystic acne.
Cystic Acne on the Neck
Cystic acne can appear on the neck, particularly along the jawline and under the chin. The neck also has large pores and is rich in sebaceous glands. In addition, the neck is an area often overlooked when cleansing the face.
How to Get Rid of Cystic Acne?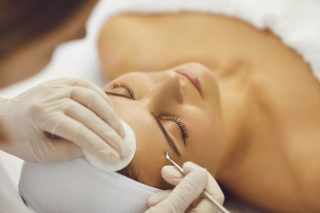 While cystic acne can be a painful and embarrassing condition, it can be prevented, treated, and managed.
Treatment Options for Cystic Acne
Treatment options for cystic acne range from topical creams and ointments to oral medications to hormone therapy. Your healthcare provider will determine which is right for you, the location and severity of your cysts, your medical history, and your hormone levels. The first and most crucial step is to consult a doctor. They can accurately diagnose your condition and recommend a personalized treatment plan based on the severity of your cystic acne.
Topical Treatments for Cystic Acne
Your healthcare provider may prescribe topical treatments that contain ingredients like benzoyl peroxide, salicylic acid, or retinoids. These can help unclog pores, reduce inflammation, and prevent new breakouts.
Oral medications for Cystic Acne
For severe cystic acne, oral medications may be necessary. These can include antibiotics to reduce bacterial infection and inflammation or hormonal therapy (e.g., birth control pills or anti-androgen medications) to balance hormones. Isotretinoin, a drug commonly known as Accutane, is a potent oral medication used to treat severe cystic acne that doesn't respond to other treatments. It works by reducing sebum production and preventing the formation of new cysts. 
Hormonal Therapy for Cystic Acne
Hormone replacement therapy (HRT) can be used to treat or prevent cystic acne, primarily in individuals whose cystic acne is known to have been triggered or worsened by hormonal imbalances. Here's how HRT can be used to treat cystic acne:
Prescription of Hormone Therapy

: If a hormonal imbalance is identified as a contributing factor to cystic acne, your healthcare provider may recommend hormone replacement therapy. This can involve different approaches:

Oral Contraceptives (Birth Control Pills)

: For individuals with female reproductive systems, oral contraceptives (birth control pills) are a common treatment option. They contain synthetic hormones (estrogen and progestin) that can regulate hormone levels, reduce androgen production, and thereby decrease the severity of acne.

Anti-Androgen Medications

: In some cases, medications that specifically target androgens may be prescribed.

Spironolactone

is a common anti-androgen drug that can be effective in reducing the impact of androgens on the skin, leading to a decrease in acne.
Lifestyle Changes
In addition to the treatments mentioned above, there are lifestyle changes you can make to minimize outbreak of cystic acne, such as:
Diet
While more research is needed, some people find that certain dietary changes can help improve their acne. Reducing the consumption of high-glycemic foods, sugary drinks, and dairy products may be beneficial for some individuals. It's essential to consult with a healthcare provider or registered dietitian before making significant dietary changes.
Stress Reduction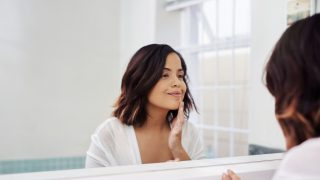 Stress can exacerbate cystic acne by increasing hormone production. Practices like meditation, yoga, deep breathing exercises, and regular physical activity can help reduce stress levels.
Avoid Comedogenic Products
Check the labels of your skincare and makeup products for "non-comedogenic" or "oil-free" claims. These products are less likely to clog pores and contribute to acne.
Cleanse After Exercise
After exercising, cleanse your face and body to remove sweat and oil buildup. Avoid wearing tight-fitting workout clothes for extended periods.
Change Bedding and Pillowcases
Regularly change your bedding and pillowcases to prevent the buildup of oils, dirt, and bacteria that can contribute to acne.
Sun Protection
Use sunscreen daily to protect your skin from sun damage and prevent post-inflammatory hyperpigmentation (dark spots) that can occur after cystic acne lesions heal.
The Role of Skincare
Skincare is very important to prevent, treat, and manage cystic acne. Establish a gentle skincare routine that includes cleansing and moisturizing, using non-comedogenic products, and avoiding harsh or abrasive scrubs. Always remove makeup before bedtime.
Cystic Acne Scars
Besides the obvious pimples and cysts, one of the main issues with cystic acne is it can leave behind unsightly scars. The tissue damage caused by the inflammation of acne cysts can result in the formation of acne scars. There are two primary types of acne scars:
Hypertrophic Scars: These are raised, thick scars that form when there is an overproduction of collagen during the healing process. Hypertrophic scars often appear as lumps or bumps on the skin.
Atrophic Scars: These are depressed or pitted scars that occur when there is a loss of tissue during the healing process. Atrophic scars are more common in cases of severe cystic acne and are often referred to as "icepick" or "boxcar" scars.  
Preventing Cystic Acne Scars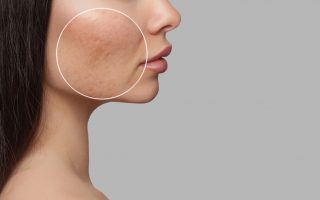 Preventing acne scars often involves early and effective acne management, which may include medication, topical treatments, and, in some cases, professional interventions like laser therapy or chemical peels.
Avoiding Picking and Popping
In addition to taking the preventive measures mentioned above, it is critically important not to pick or pop any acne pimples, especially the nodules of cystic acne. Resist the urge to pop or pick at cystic acne lesions. This can lead to scarring, increased inflammation, and the spread of bacteria. Let your dermatologist handle extractions or draining procedures.
Treating Existing Scars
If cystic acne leaves behind scars, discuss scar management options with your healthcare provider. Treatments like laser therapy, chemical peels, or microneedling can improve the appearance of acne scars.
Prevention and Management of Cystic Acne
While cystic acne can cause unsightly blemishes and scars, it can be prevented and well-managed.
Preventing Cystic Acne
Preventing cystic acne involves a combination of lifestyle modifications, skincare practices, and dietary choices. Here are some specific strategies to help prevent cystic acne:
Dietary Recommendations
Consider adopting a diet that includes plenty of fruits, vegetables, whole grains, lean proteins, and healthy fats. Reduce your intake of sugary and high-glycemic foods. Stay hydrated by drinking enough water.
Skincare Routine
Stick to your skincare routine consistently, even when your skin appears to be clear. Consistent care can help prevent new breakouts.
Stress Reduction Techniques
Practice stress reduction techniques such as yoga, rhythmic breathing, meditation, or tai chi.
Managing Recurring Cystic Acne – Long-term Strategies
Some long-term strategies to manage recurring bouts of cystic acne include the following:
Maintenance Treatment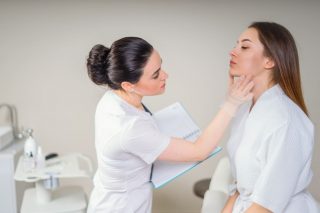 Continue with any maintenance treatments recommended by your dermatologist, such as topical medications or hormonal therapy, to help prevent new breakouts.
Regular Dermatologist Visits
Schedule regular follow-up appointments with your dermatologist to monitor your skin's progress and make adjustments to your treatment plan as needed.
Sun Protection
Continue to protect your skin from the sun to minimize the risk of hyperpigmentation and further skin damage.
Hormonal Balance
If you suspect hormonal imbalances are contributing to your cystic acne, discuss hormonal therapy options with your healthcare provider.
Conclusions
Cystic acne can be a challenging and distressing condition, but with the right combination of medical treatments, skincare practices, and lifestyle modifications, it is manageable. Remember that seeking guidance from a qualified professional is essential for an accurate diagnosis and tailored treatment plan. By following the advice in this guide and maintaining a proactive approach to skincare and overall health, you can work towards clearer, healthier skin and improved self-confidence.