While HGH replacement therapy is indeed a large health investment, it is also a necessary one in cases of HGH deficiencies. The good news for patients is that modern technology has made safe and effective HGH therapy more affordable for everyday Americans.
Even if you are on a tight budget, financing HGH therapy is still possible when you employ the right cost-saving strategies with the guidance of a knowledgeable provider. In this article, we'll cover all the expenses typically associated with Human growth hormone replacement therapy, estimates on how much they will cost, and what you can expect to pay as a patient in the final analysis. Then, we'll go over some frequently asked questions (FAQs) that replacement therapy patients commonly have to pertain to their treatment.
Average Monthly GH Therapy Cost: US therapy patients can expect to spend, on average, $600-$1,500 per month.
What Are the Costs Associated with HGH Therapy?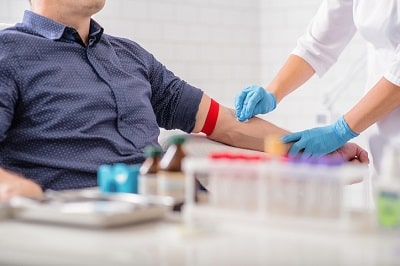 Before determining your individual therapy costs, let's explore the various aspects and stages of care to get an idea of where your investment is going as a patient.
Consultation
Incoming patients must book an appointment with their provider to do some initial diagnostic work and consultation. The procedures involved in the consultation include early diagnostic work to determine if you are a good candidate for therapy as well as a detailed review of your medical history.
In total, the initial consultation and necessary lab work (explained below) usually costs HGH Therapy Clinic patients around $500.
Required Tests
When you come into our office for your initial consultation, one of the first things that we do is to perform a battery of tests to explore your suitability for therapy.
The two most common diagnostic tests for incoming patients with suspected HGH deficiencies are:
GH stimulation tests. In this lab exam, patients are administered a harmless substance through IV that should produce a spike in HGH release by the pituitary gland. The results will show how well the pituitary gland is functioning and, in turn, whether you require therapeutic intervention to correct any dysfunction.
GH suppression tests. Suppression tests are another common diagnostic tool. They gauge the relationship between blood sugar levels and HGH release to detect any abnormalities.
Depending on your individual circumstances, additional tests may be necessary. Your provider will explain all the relevant details and answer any questions you have regarding diagnostic testing during your consultation.
Prescription
Depending on the provider, patients may need to pay to procure their prescriptions from their doctors. Other clinics, like HGH Therapy Clinic, include prescriptions as of the initial consultation work, so patients leave our doors with prescription in hand once we've approved them for therapy.
Combination With other Therapies
Occasionally, auxiliary or supplementary therapies administered at the same time (concurrently) to Human growth hormone treatment may be necessary to support your progress. During your initial consultation, your doctor will explore any needed auxiliary treatments, if needed.
HGH Supplements
Somatropin, the synthetic version of naturally-occurring human growth hormone that is used in most modern therapies, represents by far the most expensive aspect of care. Further on, we'll compare somatropin costs between the leading US manufacturers to give you an idea of how much you should anticipate spending on these supplies.
Type of HGH Injection Device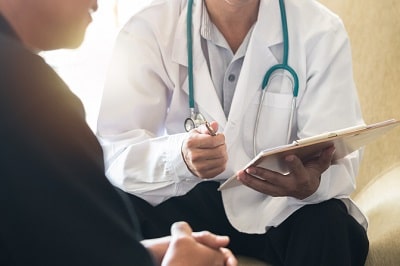 The type of HGH injection device (injection pen vs. vial and syringe) will affect the overall cost of therapy. As we will explore further below, injection pens are slightly more expensive, on average, than HGH in vial form. However, injection pens offer significant cost-savings by eliminating waste – an important factor that patients should also consider when choosing their HGH device.
What Benefits Does Growth Hormone Replacement Therapy Offer Patients?
Modern research has done much to shine a spotlight on the previously misunderstood health impacts of adult-onset GHD. Whereas in previous times, patients with hormonal deficiencies were likely to be misdiagnosed due to GHD's similar clinical presentation compared to other conditions, we now have the diagnostic tools and clinical knowledge to safely and effectively restore HGH levels in patients affected by GHD.
To achieve restored HGH levels in patients with deficiencies, clinicians utilize the administration of somatropin — otherwise known as recombinant human growth hormone (rHGH) – a synthetic version of human growth hormone that performs the same functions in vivo as HGH manufactured by the pituitary gland.
The benefits of somatropin for patients with deficiencies are numerous. They include:
Anti-aging effects (greater energy levels, younger appearance, more positive and "youthful" mental outlook).
Boosted muscle-mass.
Stronger bones and teeth.
Restored interest in sex.
Optimized metabolism (blood sugar management).
Due to its vast health applications, HGH hormone therapy may be administered either as a stand-alone therapy or in tandem with more conventional treatments.
How Much Does HGH Injections Cost in the US?
Let's discuss the hard figures regarding Growth hormone therapy costs in the US.
Cost of HGH Supplements
The cost of HGH supplements varies, sometimes dramatically, from manufacturer to manufacturer and from supplement type to type. Let's break down the most common supplements and leading US manufacturers by cost. Your first choice as a patient is between the raw HGH itself ( packaged in "vial" form) and injection pens from. We've broken down the costs of each product type below:
HGH Vial Cost
Zomactin© (5 mg)
$475
Humatrope® (5 mg)
$1,000
Saizen© (5 mg)
$1,000
Zorbitive (8.8 mg)
$15,000
Serostim (5 mg)
$5,100
In the following chart, we've broken down the costs associated with HGH injection pens from HGH Therapy Clinic's online shop:
Cost for HGH injection pens
Genotropin Mixer© Pen (5 mg)
$1,050
Norditropin FlexPro© Pen (5 mg)
$1,075
Humatrope HumatroPen® (6 mg)
$1,400
Cost of HGH. Most popular FDA-approved packages in the United States
| | | | | | | |
| --- | --- | --- | --- | --- | --- | --- |
| Product | Total mg | Manufacturer | WAC price per package | WAC price per mg | Max dose (mg) | Dose increment (mg) |
| Norditropin NordiFlex | 5 – 15 mg | Novo Nordisk | $496 | $49,6 | 3,0 | 0,05 |
| Norditropin FlexPro Pen | 5 – 15 mg mg | Novo Nordisk | $1913 | $196,5 | 3,0 | 0,05 |
| | | | | | | |
| --- | --- | --- | --- | --- | --- | --- |
| Product | Total mg | Manufacturer | WAC price per package | WAC price per mg | Max dose (mg) | Dose increment (mg) |
| Genotropin | 5 – 12 mg | Pfizer | $399 | $46,8 | 2,55 | 0,04 |
| Genotropin MiniQuick | 0.2 – 2.0 mg | Pfizer | $1943 | $1703 | 0,33 | 0,005 |
| Genotropin Mixer | 5 – 12 mg | Pfizer | $2025 | $230 | 2,55 | 0,04 |
| | | | | | | |
| --- | --- | --- | --- | --- | --- | --- |
| Product | Total mg | Manufacturer | WAC price per package | WAC price per mg | Max dose (mg) | Dose increment (mg) |
| Humatrope | 5 mg | Eli Lilly | $1000 | $200 | 1,5 | 0,025 |
| HumatroPen | 6 – 24 mg | Eli Lilly | $3433 | $245 | 4,2 | 0.07 |
Average Total Growth hormone Therapy Cost for US Patients
Norditropin is typically the most expensive HGH formulation with a price point of $49.67 per mg. Saizen, a highly respected brand of Merck Serono, comes in at about $8 less per mg at $41.01.
The bottom line cost-wise for HGH therapy patients is that, throughout the entire course of therapy from start to finish, most patients in the US can expect to spend roughly $7,000 altogether. That figure includes all diagnostic work, ongoing evaluation and monitoring by licensed medical staff, daily therapeutic injections lasting about six months on average, and final consultation once the desired results are achieved.
The world of hormone replacement therapy (HRT) may be difficult to navigate for patients new to this rapidly-growing sector of anti-aging medicine. One of the primary concerns that therapy patients voice regards the cost of HGH replacement, which can vary widely depending on the type of treatment as well as where treatment is received.
While HGH therapy may have been out of financial reach for patients on tight budgets just a few years ago, the treatment (with the right cost-mitigation approaches) is now affordable for nearly anyone on a modest income. Here, we'll offer a brief introduction to what HRT with HGH entails, an overview of the costs involved in the course of a typical treatment, and strategies to reduce the cost of therapy.
What Is Growth Hormone Deficiency?
An HGH deficiency occurs when the pituitary gland – a small but critically important structure in the mid-region of the brain – does not supply the body with enough of the human growth hormone that it needs to build healthy bone and muscle tissue, regulate metabolism, and perform other necessary functions in the body.
Growth hormone, as an anabolic agent, is responsible for the following tasks in humans:
Stimulating protein synthesis (the building blocks of muscle).
Mediation of insulin response (i.e., regulation of metabolism).
Strengthening bones (effective to prevent osteoporosis, for example).
Stimulating and regulating the release of insulin-like growth factor 1 (IGF-1) by the liver, another hormone critical to metabolic health.
The absence of adequate supplies of HGH distributed by the pituitary gland is referred to clinically as a growth hormone disorder (GHD).
What Are the Different Types and Causes of Growth Hormone Deficiency?
Not all cases of GHD are the same; hence, they require different approaches to treatment. Here are the two primary distinctions in the origins and causes of declined growth hormone:
GHD can be caused by a hereditary genetic condition from birth, wherein the pituitary gland is not "programmed" to effectively release HGH in its characteristic pulsatile secretions. Catching these types of genetically-induced deficiencies early on is critical because GHD plays a central role in the normal growth and development of children.
As individuals age, lifestyle factors such as poor diet, lack of exercise, inadequate sleep (HGH is primarily released during deep sleep), or tumor development can trigger a deficiency. While the growth-mitigating effects of GHD are more apparent in children, deficiencies that develop later in life wreak havoc on adult health as well.
*HGH Therapy Clinic exclusively performs HGH therapy for adult patients. Children with suspected cases of GHD should visit a specialist with expertise in treating younger patients affected by these deficiencies.
The anti-anabolic effects of GHD on adults produce an array of symptoms that can include:
Dry and/or thin skin.
Chronic fatigue (significantly reduced energy levels).
Loss of muscle mass and/or functional strength.
Elevated harmful cholesterol (triglycerides).
Loss of interest in sex (inhibited sexual libido).
How Is Growth Hormone Disorder Treated?
Depending on the severity of the deficiency, the doctor may recommend a variety of treatment options. These may include:
Diet modification.
Greater sleep.
Increased activity levels (especially weigh-lifting).
Intermittent fasting.
Oral amino acid supplementation.
Hormone therapy via somatropin injections.*
*In patients with advanced cases of GHD, somatropin injected intravenously or intramuscularly is the only proven way to restore HGH to optimal levels in the body.
Is an HGH Prescription Necessary?
Many patients wonder whether getting an HGH prescription from an accredited doctor is necessary. The answer is definitively "yes" for two reasons:
Purchasing or using HGH without a prescription is against the law in the United States, with penalties ranging from fines to jail time.
More importantly, attempting to self-administer HGH without the guidance of an expert is dangerous and potentially life-threatening.
The Steps Involved in Getting an HGH Prescription
These are the steps that patients must take in order to obtain a legal HGH prescription:
Step 1: Schedule a consultation with an endocrinologist.
Step 2: Visit the clinic to discuss health concerns and/or submit to testing for an HGH deficiency. As mentioned previously, the two most commonly administered tests to check for a growth hormone disorder are GH suppression and GH stimulation tests.
Step 3: Return to the clinic to review the results of the lab testing with the clinician.
Step 4: Develop an individualized treatment plan that may include the therapeutic administration of somatropin.
Step 5: The doctor writes the prescription on behalf of the patient.
Step 6: The patient can now legally purchase HGH either online or in-person at a brick-and-mortar pharmacy.
The Cost-Savings of Getting HGH Prescribed Online
Each step of the process outlined above (except #2, which requires a physical visit to a lab) can now be performed digitally, including the doctor's consultation and obtaining the HGH prescription.
The online route can save considerably for a number of reasons:
Due to more ideal cost-effectiveness on the provider's end, online doctor consultations are generally more affordable than visits performed in-person.
The patient does not incur travel expenses associated with going to and from the clinic.
Better deals on somatropin can be found on the web compared to brick-and-mortar pharmacies.
How Much Does Growth Hormone Therapy Cost Monthly?
We'll explore the costs for patients to consider related to HGH replacement therapy in detail below.
Average Monthly HGH Cost for US Patients
Initial doctor consultation + lab Work
$500
Monthly somatropin cost
$800-3,000 (depending on dose and delivery method)
Average monthly growth hormone therapy cost for a patient in their 50s
$1,200
It's important to keep in mind that the average monthly cost of HGH hormone therapy depends on a few factors, including:
The age of the patient.
The brand of HGH medication.
The delivery method (syringe vs. injection pen).
The amount and/or frequency of ongoing lab testing required.
Why Is HGH Therapy More Expensive in the United States?
After exposure to the many advertisements on the web promising "expert" hormone replacement therapy at bargain prices in foreign clinics that operate in Mexico, Panama, or elsewhere, many patients understandably ask the question:  Why should I pay more in the United States for care?
Why US Hormone Replacement Is Superior to Therapy Abroad
There are several reasons patients should consider visiting a clinic here at home rather than traveling to a Third World destination to receive their therapy. Here are a few:
Regulations in foreign countries are often lacking or altogether non-existent. One of the reasons that advertised prices are lower in Mexico or other destinations is that the operators of these facilities are not subject to the same oversight as US medical institutions are. Ultimately, this means an increased risk of accidents, malpractice, infections following care, or other adverse health events resulting from substandard care.
The medications utilized in facilities abroad may be fake or substandard. A 2017 report by the World Health Organization, for example, found that one in ten medical supplies sourced from the Third World is either fake or substandard.
Many of the therapy providers who staff these clinics may be unlicensed or have earned their medical credentials outside of the US – again, often in countries with substantially less rigorous academic standards than American doctors are subject to in US institutions.
The bottom line is that, when you visit a foreign HGH therapy provider, you are taking enormous personal risk that outweighs the potential benefits of saving money. Ultimately, the calculation you must make comes down to:  Is your personal well-being more important than shaving a few dollars off of the cost of therapy by seeking care from unverified providers abroad?
Frequently Asked Questions
When Can I Expect to See Results From HGH Therapy?
Many patients see significant improvements in their health-related to optimized HGH levels within a month. However, in some cases, satisfactory results can take up to three months to become evident.  If you have been diligently performing your Growth hormone injections as prescribed for more than three months without noticeable results, it may be necessary to re-evaluate your therapy strategy with your provider.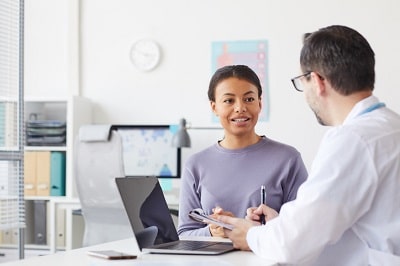 What Happens if I Postpone Necessary HGH Therapy?
Following a diagnosis confirming an HGH deficiency, under ideal circumstances and whenever possible, patients should begin therapy. Understandably, though, financial and other considerations may require more time for planning.
While putting therapy off for a short time (a month, for example) to make the necessary preparations as a patient is unlikely to cause harm, waiting for longer periods could seriously jeopardize your long-term health. HGH Therapy Clinic, therefore, strongly urges patients to begin therapy as soon as possible in the event of a diagnosed deficiency.
How Can HGH Therapy Save Medical Costs in the Future?
Growth hormone deficiencies are associated with a potentially serious decline in quality of life and the development of numerous health conditions that, left untreated, could balloon into unmanageable future healthcare costs for patients. If you have been diagnosed with a deficiency, receiving timely therapeutic intervention is a must.
Are There Any Hidden Costs Following HGH Therapy?
We prioritize transparency for patients. We do not include any surprise charges for patients or blindside you with hidden costs. Following the completion of therapy, a handful of tests may be needed in the ensuing months to confirm that your HGH blood concentrations have returned to optimal levels and that you are not experiencing any adverse effects from the treatment.
Can I Afford HGH Therapy?
The bottom line regarding human growth hormone therapy cost for patients on a budget is that, with the right strategies, almost anyone on a middle-class income can afford HGH therapy. When you visit HGH Therapy Clinic for your consultation, our expert providers will discuss all of your concerns – including financial ones – to help come up with the ideal treatment plan for you.
How Can Patients Reduce the Cost of HGH Replacement Therapy?
Optimizing HGH levels is a large investment. Although the health dividends that therapy pays are worth the money, there are still important financial considerations that must be weighed by patients and their families before committing to treatment.
To reduce the financial burden of HGH replacement therapy, consider the following cost-reduction strategies:
Switch to HGH injection pens. Injection pens are small, portable "all-in-one" devices designed to maximize efficiency and ease-of-use for patients who self-administer HGH as part of therapy. One study found that, for patients without significant experience in performing injections on themselves, nearly a quarter of somatropin is wasted using conventional syringe needles. HGH injection pens, in comparison, reduce the waste to nearly zero.
Utilize digital resources (such as those offered by HGH Therapy Clinic) — rather than physical visits to a clinic — to cut the cost of obtaining an HGH prescription.
Patients with diagnosed HGH deficiencies, in consultation with an endocrinologist, may also consider less expensive alternative treatment modalities such as lifestyle interventions and/or oral amino acid-based HGH supplements. Again, though, as we discussed previously, changes to lifestyle and oral medications — while sometimes sufficient means to correct minor HGH deficiencies — are ineffectual in treating more advanced cases. In these instances, only somatropin via injection is effective in restoring hormonal balance and overall health.