Patients with an interest in boosting their hormonal profiles frequently have justifiable concerns about both the effects of low levels of testosterone (in men and women, respectively) as well as the potential side effects associated with testosterone replacement therapy (TRT) to treat low testosterone (sometimes called "low T").
Decreased testosterone in men is most often triggered by a condition called hypogonadism in which the male testes produce insufficient supplies of testosterone, the primary male sex hormone. These types of hormonal (endocrine) deficiencies in men carry the potential for serious and long-lasting damaging health impacts that can hinder quality of life and even trigger chronic disease.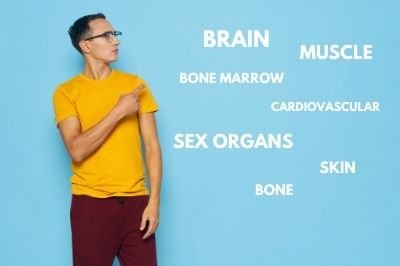 Likewise, women rely on testosterone in adequate quantities, although they need much less of the hormone than men. Testosterone deficiencies can affect women at any age, but they are most common in women who are either menopausal or postmenopausal due to shifting balances in relevant sex hormones (estrogen, progesterone, and testosterone).
TRT is the most common and reliable method for restoring circulating free testosterone levels in both men and women.
In this article, we'll explore the health effects of decreased testosterone as well as the potential dangers posed by testosterone therapy.
As always, for maximal patient safety, it's critical to seek TRT and all other forms of hormonal care from a licensed endocrinologist (hormone doctor) such as the expert staff at HGH Therapy Clinic, who a proven track record safely of performing the therapy in patients.
What Are the Health Effects of Low Testosterone?
Testosterone is critical for a number of biological functions, most notably for the reproductive health of both men and women, but also for metabolism, mood regulation, and cardiovascular optimization. Below, we'll describe the most concerning effects of decreased testosterone levels in men and women, respectively.
Low Levels of Testosterone Effects in Men
Low T in men is nothing short of a public health crisis. Recent studies show alarmingly high rates of testosterone deficiencies, increasingly among younger men. Testosterone levels tend to decline with age. Although many may dismiss this tendency as a "natural" component of aging, there is actually no biological law of nature that indicates that testosterone levels must necessarily drop as we age.
Instead, testosterone loss occurs due to a number of genetic and lifestyle factors such as:
Obesity.
Metabolic dysfunction (leading to pre-diabetes and diabetes).
Inactivity (sedentary lifestyle).
Poor blood flow.
Injury to the gonads.
Chronic inflammation.
Particularly in the West, declining testosterone levels are a concern. Most men in the US lose about 1% of their testosterone each year.
The effects of these testosterone losses can be brutal and are not limited to impaired sexual function. Symptoms associated with low T include:
Loss of interest in sex.
Sexual dysfunction.
Inability to achieve and maintain erection.
Muscle loss.
Decrease in bone density (leading to osteoporosis later in life).
Mental health issues. (anxiety and depression).
Low Testosterone Effects in Women
Although the effects of low T in women may be more subtle and less-publicized than those seen in men, they nonetheless can severely impact the health of women who experience these deficiencies.
Like men, women require adequate levels of testosterone to maintain sex drive and reproductive health, as well as for the performance of a variety of other functions vital for female health.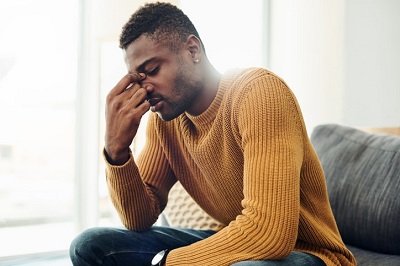 Low testosterone in women causes:
Poor libido (diminished interest in sex).
Vaginal dryness.
Low energy levels.
Unchecked weight gain.
Loss of bone density (i.e., osteoporosis).
Loss in muscle mass.
The Long-Term Effects of Low T
In addition to causing short-term pain, declined testosterone seriously jeopardizes the health of patients who suffer from low levels of testosterone.
Such effects of low T in both men and women include:
Heart (cardiovascular) disease.
Tumor growth stimulation and corresponding increased risk of cancer.
Infertility and declined sexual function intensivity.
Cognitive decline (potentially leading to Alzheimer's disease and other neurodegenerative conditions).
Osteoporosis (weakening of the bones, often causing fractures).
What Treatment Options Exist for Low T?
Fortunately, the ravaging effects of low T can be mitigated or avoided in most patients who receive therapy to correct the hormonal imbalance before it becomes a major health burden. The most common treatment for low testosterone, as we mentioned earlier, is called testosterone replacement therapy (TRT).
Two primary types of TRT are performed on US patients. They are:
Bioidentical hormone replacement. In this therapeutic modality, hormonal pellets are inserted under the skin, where they gradually release a type of testosterone referred to as "bioidentical" that mimics the molecular structure of naturally-occurring testosterone in the body.
TRT with synthetic testosterone. This type of TRT typically involves regular injections of synthetic (lab-produced) testosterone in patients over the course of several months, although other delivery methods exist that we will explore below.
The testosterone utilized in TRT can be administered in the following forms:
Gels.
Patches.
Creams.
Pellets.
*Injections.
*Testosterone injections represent the most affordable and widely effective form of TRT due to their introduction directly into the bloodstream via muscle tissue.
What Are the Potential Negative Side Effects Associated with Testosterone Treatment?
As with all medical treatments, TRT does carry some risk of unwanted effects in those who receive it. The risk to patients can be minimized by:
Visiting a properly accredited hormone replacement therapy (HRT) clinic with endocrinologists who specialize in TRT.
Performing all necessary bloodwork prior to beginning therapy to check for any pre-existing conditions that might contraindicate therapy.
Ongoing evaluation (via blood tests and clinical examinations) throughout the course of therapy.
Even with the appropriate precautions, there is still some unavoidable risk posed by TRT because each patient responds differently to treatment. Below, we'll cover the most common adverse effects of TRT in both men and women.
Potential Negative Side Effects of Testosterone Therapy in Men
The potential adverse effects of TRT in men include:
Exacerbated (worsening) sleep apnea.
Impaired sperm production.
Abnormally high red blood cell production (erythrocytosis).
Increase in acne.
Breast tissue growth (gynecomastia).
Growth of pre-existing prostate cancer and/or non-cancerous benign prostatic hyperplasia.
Potential Adverse Effects of Testosterone Replacement Therapy in Women
Women are sometimes also susceptible to the negative effects of TRT. Women can experience the following responses to therapy:
Acne.
Unwanted facial hair growth.
Voice deepening.
Decrease in HDL cholesterol levels (the beneficial type of cholesterol).
Increased incidence of breast cancer development.
Strategies to Avoid Potential Unpleasant Effects of TRT
As we mentioned previously, the risk of unwanted effects of TRT can be minimized by visiting a licensed physician to discuss individual risk factors and by submitting to routine blood tests before, during, and at the conclusion of therapy to catch any developing negative consequences before they become unmanageable. Again, always seek care from a professional provider. Never purchase testosterone on the black or gray markets, as these testosterone supplements are often fake or substandard.
A Final Note on the Safety and Side Effects of Testosterone Replacement
No medical procedure, regardless of how minor, is without risk. Testosterone therapy, although largely safe for the vast majority of hormonal patients who receive it, nonetheless does pose a risk in some cases. By following the strategies laid out above, you can minimize your exposure to the potential negative consequences of TRT while maximizing the effective restoration of your free testosterone levels to reap the multifaceted health benefits of improved hormonal profiles.