Staying young-looking, fit, and healthy forever is the proverbial Fountain of Youth that people have searched high and low for centuries. If it seems as if there are always new products on the market claiming to do just that, you are correct in your thoughts. One of the latest of these claims centers around New U Life Somaderm, a homeopathic form of HGH gel that has not been shown to be effective in raising HGH levels in the body.
Are Homeopathic HGH Gels Effective?
According to the product website, Somaderm is a powerful and innovative transdermal blend of various exclusive and proprietary homeopathic ingredients and nutraceuticals. The following line states that independent, third-party trials showed that key ingredients in the gel increase natural growth hormone by up to 800% in healthy volunteers. The first thing to know is that they say (in small print) that the FDA has not evaluated these statements. 
As we begin our review of Somaderm HGH gel, we find that after 15 years of being on the market, there are still no independent studies on the website backing up the company's claims of results. 
Adult growth hormone deficiency (AGHD) can lead to significant health and well-being issues. The only legitimate option for treating AGHD is human growth hormone (HGH) injections. In this review, we look at the difference between HGH injections and products such as Somaderm to help you decide on the best method of treating your hormone deficiency.
How Do HGH Gels Claim to Work?
The claim of products such as a homeopathic HGH gel is that there will be a boost in the body's natural secretion of human growth hormone from the pituitary gland. Somaderm claims to leverage natural botanicals and powerful glandulars in a unique blend that promotes HGH production in the same way that injectable peptides work on the pituitary gland. Peptides are hormone substances injected into the body that stimulate the anterior pituitary gland to increase HGH secretion. 
Because Somaderm is a homeopathic formula, which we discuss more in the next section, it does not have the same abilities as peptides to increase HGH levels. That does not stop Somaderm from claiming many benefits.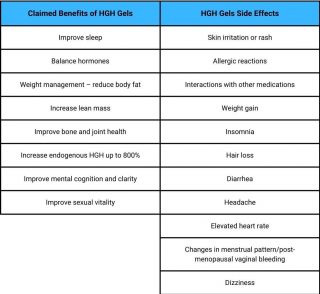 The benefits claims are based on how real HGH works in the body – not necessarily on the results of HGH cream, gel, or other over-the-counter products. It is essential to note that the side effects mentioned above are those claimed by people who have used Somaderm gel. 
The Full List of Somaderm Ingredients
Somaderm is a homeopathic gel. In homeopathy, the original compound is diluted many times until no active ingredient is left. In the case of somatropin 30x, the x means a 1:10 dilution with water, which is then repeated 30 times. All that remains, at most, is one HGH molecule in 8,000 gallons of water. 
Somaderm gel contains both active and inactive ingredients, as follows:
Ingredient
Active or Inactive
Benefits

Glandula Suprarenalis Suis 6x (Pig Adrenal Gland)

Active

May help protect the adrenal gland when increasing HGH levels and improve metabolism

Thyroidinum 8x (Bovine Thyroid Gland)

Active

May help with thyroid gland issues and improve skin, hair, energy, weight, and body temperature 

Somatropin 30x

Active

As the bioidentical version of somatotropin (HGH), somatropin may promote all the same benefits of human growth hormone

Purified Water

Inactive

Mechanically filtered ingredient

Phenoxyethanol & Caprylyl Glycol & Sorbic Acid

Inactive

Preservative 

Aloe Barbadensis Leaf

Inactive 

Antioxidant and antibacterial properties

Camellia Sinensis (Green Tea) Leaf

Inactive

May help reduce fatigue, may support weight management, anti-oxidant

Acrylates/C10-30 Alkul Acrylate Cross Polymer

Inactive

Enhances the feel of the gel

Glycyrrhiza Glabra

(Licorice) Root

Inactive

May help with eczema,

anticancer

, hormone normalizer during menopause, weight maintenance, phytoestrogen to protect estrogen receptors from xenohormones, supports liver health and immune system functions

Vitex Agnuscastus

(Chaste Tree) Fruit

Inactive

Progesterone stimulator

Epimedium Sagittatum\

(Epimedium) Aerial Parts

Inactive

May support healthy joints and sexual functions and decrease physical and mental fatigue

Ginkgo Biloba (Ginkgo) Leaf

Inactive

Antioxidant, vasodilator, helps with PMS, memory, macular degeneration, neuro-protective, sexual dysfunction, vertigo/dizziness, 

Mucuna Pruriens

(Velvet Bean) Seed

Inactive

May help dopamine levels and testosterone production and improve joint health

Dioscorea Villosa (Wild Yam) Root

Inactive

May help with menopause, diabetes, rheumatoid arthritis, and muscle cramps

Sodium Hydroxide

Inactive

Helps maximize the efficacy of other products

Ascorbic Acid

Inactive

May benefit skin cells

PEG-33 & Peg-8 Dimethicone & Peg-14

Inactive

Emollients and emulsifiers and may help increase the absorption of other ingredients into the skin

Aloe Barbadensis Leaf Juice

Inactive

Antioxidant and antibacterial properties

Tocopherols

(Soy)

Inactive

Acts as a preservative, antioxidant, anti-inflammatory, and skin hydrator, helps prevent skin damage and reduce signs of aging

Edetate Disodium

Inactive

Protects the product from changes

Natural Plant Extract

Inactive

Unknown as it does not state what plants

Potassium Sorbate "Extract"

Inactive

Preservative 
Please be aware that some of these ingredients, such as ginkgo and epimedium, can interact with certain medications. Some ingredients, including vitex agnuscastus, may be unsafe for pregnant or breastfeeding women. While licorice may have many beneficial properties, some individuals should not use glycyrrhiza glabra products.
As with any medicine or supplement, whether oral or topical, speak with your doctor before use.
Is Somaderm FDA-Approved?
The Food and Drug Administration registers, clears, and approves products for sale. There is a significant difference between those three terms:
FDA Registered: Medical products require FDA registration before being released for sale in the United States. Yearly registration is required, where a review process checks facility and product information. Registration does not verify product quality or performance. It only verifies that the FDA knows the product is being manufactured. 

FDA Approved: Getting FDA approval requires analysis of risks and benefits and whether the product does what it says. It is a lengthy process involving clinical testing by the manufacturer. 

FDA Cleared: Getting FDA clearance means that a manufacturer shows their product has the same potential to perform as similar approved and cleared products. No studies are necessary so long as the manufacturer can demonstrate their product is as good as the others on the market. 
When looking at the FAQs about Somaderm, FDA registration but no approval is present on their website. Somaderm is NOT FDA approved. 
Does Somaderm Provide Any Results?
Among the many Somaderm results are people getting rich in this multi-level marketing (MLM) program. If that is not the result you are thinking about, we will get to that. It is vital to note that distributors promoting Somaderm want you to buy the $169/per bottle product so they can make money. 
Does that mean there are no positive Somaderm gel before and after benefits? After all, there are plenty of people who stand by this product. However, some who have used it for years talk about going from positive to adverse changes in their health or well-being. You would need to look at reliable, unbiased studies – of which none exist to see legitimate results. 
New U Life Lawsuits
In 2019, it was reported that New U Life was under investigation of its health benefit claims for Somaderm Gel. The Electronic Retailing Self-Regulation Program (ERSP) is administered by the Council of Better Business Bureaus and is an investigative, self-regulation unit of the advertising industry. 
Several of the claims under review included that Somaderm gel may support, promote, or help the following areas:
Mood

Hair

Skin

Nails

Joint mobility

Libido

Fat loss

Muscle tone

Strength

Memory 
As a result of the investigation, New U Life changed its marketing claims. Although one of the changes was to remove all consumer testimonials, as of the writing of this article, there are, again, consumer testimonials on their website. 
During the investigation, New U Life did not submit any reliable evidence or studies to demonstrate the effectiveness of their product or characterization of the ingredients as "homeopathic."
When discussing Somaderm reviews, it might also be helpful to remember that New U Life is an MLM company with tens of thousands of distributors. Multiple consumer complaints urged Truth In Advertising (TINA) to investigate. 
In less than two years, the FDA received more than 20 complaints. As of February 2020, the Federal Trade Commission (FTC) received 151 complaints about New U Life. Also in 2020, a supplemental complaint with the FDA and FTC addressed distributors marketing Somaderm Gel as being able to help improve immune system functions during the Covid pandemic to help prevent or treat the virus. 
New U Life Somaderm vs. HGH Injections: Who Wins?
If you are an adult diagnosed with a growth hormone deficiency, the best option is HGH injections. The HGH molecule cannot enter the body through the skin, as it is too large to penetrate the skin. If taken orally, the body's digestive enzymes would destroy it. The only way for HGH to reach its receptor cells is through injection. 
Here is a table that compares Somaderm vs. HGH injections:
| | | |
| --- | --- | --- |
| | Somaderm Gel | Injectable Somatropin (HGH) |
| FDA Approved | No | Yes |
| Prescribed and monitored by a doctor | No | Yes |
| Scientific studies and backing | No | Yes |
| Proven through legitimate research to boost HGH levels | No | Yes |
| Homeopathic product | Yes | No |
| Available without a prescription | Yes | No |
If you need to boost your HGH levels, the only safe, legal, and effective way is with HGH injections. 
Conclusion
HGH therapy in the form of doctor-prescribed injections (HGH or peptides) is the only safe way to boost human growth hormone levels in the body. All topical "forms of HGH," including Somaderm, are homeopathic products that do not contain real HGH. The extreme dilution removes the necessary active ingredient. While other ingredients in Somaderm may help with some issues, there are enough unsubstantiated claims and lawsuits to make purchasing this product a potentially dangerous proposition. 
Our hormone therapy clinic offers a complimentary consultation if you have any hormonal concerns.